Welcome! 
One of the first things you want to get done, is get your profile pages set up!  Customers see your profile before they meet you, so it's essential to create a strong first impression. This is your opportunity to showcase your experience and personality.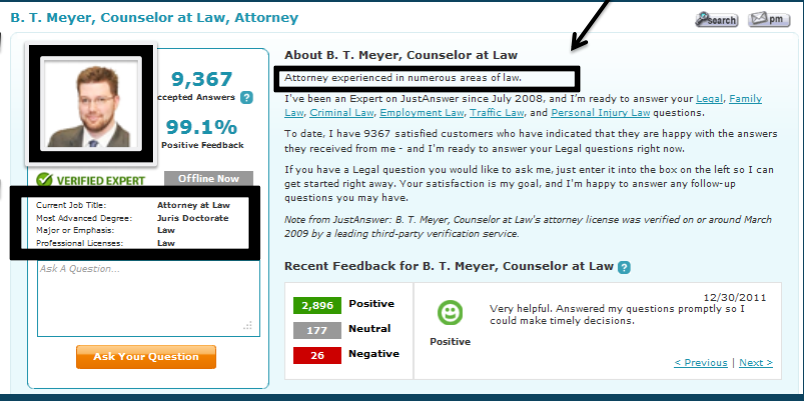 Creating a complete profile includes editing your main profile as well as your mini profile(s). Budget 10-15 minutes for completing this process. 
Main Profile
Your main profile references of all of your essential expert information. It lists registration details, contact information, work experience, licensing and education, personal information, and your expert portrait. Personal information like address, phone, email are for internal purposes only, for things like emailing you when your customers reply to you.  Customers and other Experts do not see this information. 
To edit your main profile, please visit your expert profile page.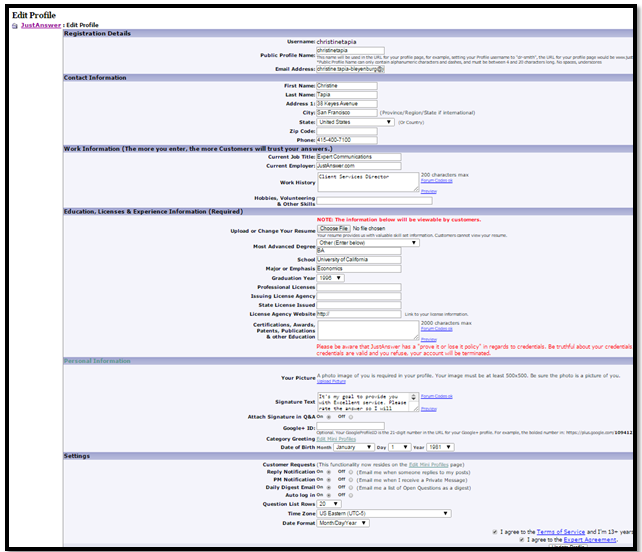 In your main profile, enter the following information:
Registration Details
Username
The main username you use to sign in. If you would like to change your username, that is done administratively, and you can simply submit a request in this Expert Help Center by clicking the red Submit an Inquiry button above.
Public Profile Name
This name appears as a part of your profile page link.  We ask that there be no spaces.  Favored examples include "DoctorNormSmitt," "MCheng," and "MFreemanCPA."
Email Address
Be sure to use an email address that you check regularly because this is where you'll receive important notifications, including customer replies. 
Contact Information
Your contact information is visible only to you and select JustAnswer staff. Customers and other experts do not have access to your personal information. See our privacy policy for more information.
Work Information
We'll use this information to fill your customer-facing profile. To protect your privacy, we do not share your current employer. All other work-related fields are public.
Current Job Title
Examples include: Doctor of Ophthalmology, ASE-Certified Mechanic, and Information Systems Manager.
Current Employer
Please specify your current employer. Rest assured, this information will not appear on your profile.
Work History
Summarize your work experience in a short but descriptive phrase. Here are some examples: "14 years practicing immigration law," "5 years working in an automotive garage," and "12 years as a CPA."
Hobbies, Volunteering, & Other Skills
Including your hobbies makes you more personable. Examples include: fishing, hiking, playing the violin, or volunteering in a soup kitchen.
Education, Licenses & Experience Information
Upload or Change Your Resume
Your resume information is displayed only to you and select JustAnswer staff. Remember to always keep a current resume on file because we'll use it to determine if you qualify for other categories. Admittance into other categories means you'll have more opportunities to earn money by helping customers.
Other education, license and experience information
Be sure to include the following:
School
Major or Emphasis
Graduation Year
Expert Licenses
Issuing License Agency
State License Issued
License Agency Website
Certifications, Awards, Patents, Publications & Other Education
Personal Information
Your Picture
Studies show that high-quality photos build trust and create a positive first impression with customers. For an expert like you, this means that your picture should be high resolution, friendly, and show that you are a real expert in your designated field. Remember, your picture is the very first thing a customer will see.
Here is a handy checklist to ensure that your picture meets our minimum standards. Your picture must:
Uniforms or expert attire, in an expert background were the most trusted. (Examples: lab coat and stethoscope for a doctor, suit for a lawyer, or coveralls for a mechanic.)
Be high quality with good lighting
Be cropped tightly below the shoulders so the focus is on your face, which should show a friendly or caring expression.
Be betwen 500x500 pixels and 1000x1000 pixels. (Some cropping tools are available during the upload process.)
Smiling works wonders
Signature Text
This field is not currently used any longer, but it may return in the future so we encourage you to fill it out.  It will allow you to have a custom signature for every answer. Here is a guide to best practices for signatures.
Attach Signature in Q&A (On/Off)
If you'd like to use a custom signature in the future, be sure to turn on the feature now.
Mini-Profiles
Mini-profiles contain category-specific information. You can have one mini-profile for each category to which you have been admitted.
To edit your mini-profile(s), please visit your My Account link and select Edit Mini Profiles. Want a tutorial? Here you go! How To Change Your Mini Profile Name
On the far right side of the screen, you will see an "Edit" link for each category. Click that link to begin customizing your first mini profile.
For each mini profile, you'll want to enter the following information:
Your View Name
Select a username you'd like your customers to see in each category. 
In the rare instance that you have been admitted to two very distinct categories, such as Medical and Antiques or Legal and Car, you can use this field to indicate a specific view name for one of the categories. For example, if you are a doctor who is also an antiques appraiser, your main profile name can be "Dr. Norm Smith," while your view name for antiques can be simply "Norm Smith."
Your Title
Select or enter an expert title to appear after your view name. For example, if you choose "Boat Mechanic," customers will be introduced to you as, "Allen Jones, Boat Mechanic." Recommended titles appear in the drop-down menu.
Qualifications
Enter a short summary of your qualifications for your category. Customers will look at this field to confirm your expertise, so be sure to highlight your top qualifications such as years of experience, and relevant certifications
Here are a few examples: "15 years as an HVAC technician," "MD in Pediatrics with 10 years' experience in emergency care for infants and toddlers," and "Honda Platinum Certified mechanic with 8+ years' experience."
Greeting Text
This field is a great tool for Experts!   Any greeting text you enter here will automatically populate to the reply box on questions you've decided to answer when you click the green "Send" button on the question page. This allows for your customers to get a speedy reply and know you've engaged with them while you're typing up or researching their answer. Something like: "Hello, I'm Sophia. Welcome to JustAnswer!  I'm reviewing your question now, and will post back in a moment with my reply."  Then once you post that greeting, you relock the question page and begin typing up your reply immediately.   Here is a guide best practices for greetings. 
Once you've entered your greeting, please Submit an Inquiry to Expert Support with the red button above, and we can get it turned on for you. It can take up to one week to activate, so please be sure to let us know as soon as you have it ready!
Greeting (On/Off)
If you'd like to use a custom greeting, be sure to turn this feature on.
Favorite Testimonial
Positive reviews can help you build trust with new customers. After you receive positive feedback, be sure to enter it in this section so other customers can see it.
Congratulations on editing your main profile and your first mini-profile! Your customers will appreciate the time you invested to show them who you are and how eager you are to help them solve problems and live better. And don't forget to edit your other mini-profiles, if you have them - remember, you have one mini-profile per category. Happy hunting!